Your contributions to Siena Catholic Academy make possible an exemplary education at
an affordable price. Tuition only covers a portion of the cost of educating a Siena student.  The Diocese generously supports the school as a ministry of the Catholic Church, but your gifts of time, talent, and treasure close the gap.
Many parents and guardians, former parents, and friends of the school give of their time and talent to coach sports, distribute lunches, stuff envelopes, prepare for open houses, offer professional advice, and so much more.  If you would like to support the school with your time and talent, please contact the office.
We also appreciate financial support.  Contributions to our annual fund support the general programming we offer our students.  This is an essential element of our fundraising efforts as it directly aides our operating budget. We also accept contributions to our various scholarship funds which offset the cost of tuition for families based on need and merit.
As we move forward with implementing Charting Our Course: The Siena Catholic Academy Strategic Plan 2015-2020, you can expect to hear more about opportunities to support the school through donations to a capital campaign.
Click here to contact us.
Volunteering
General Help:
Parent Advisory Committee
Volunteer Coordinator (Maintain volunteer database from which to recruit)
Catered Lunch Server (serve pre-purchased lunches to students once a month or more on a rotating basis)
Hospitality (serve as host or hostess for various functions at your convenience; or simply send refreshments)
Dance Chaperone
Field Trip Chaperone
Fundraising Committee
Specific Activities:
Lego League/Robotics
Odyssey of the Mind
Specific Events and Committees:
Magazine Drive
Fall Community Picnic
Open House
Teacher Appreciation
8th Grade Trip
8th Grade Dinner Dance
We will frequently request volunteers for specific activities to use SignUpGenius to register. Use the follow link to gain access: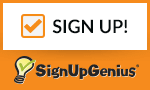 Siena Annual Fund
Your gift to the Annual Fund supports the mission of Siena Catholic Academy. In making a donation, you are helping to transform the world. Please send a check, made out to Siena Catholic Academy, to 2617 East Avenue, Rochester, NY 14610. Include "Annual Fund" in the memo section.
EIN #16-0755765